It is easy to get lost in all of the research, Ted Talks, models and business books when attempting to find a solution to increase performance.  Everyday there are new words or jargon trying to say the same thing, or new models explaining a new process to follow.  And so it goes that diving into this world of solutions and research brings me back to my initial thoughts about business.
People make businesses perform or fail
People operate systems and processes
People create teams, organisations, and customers
People lead, manage, coach and support people
People innovate, create and achieve
People create a culture
People make the decisions about finance, brand, strategy, risk and product
Without people there is no business, no product, no service, no profit, even if the business is just 1 person.  It starts and ends with people.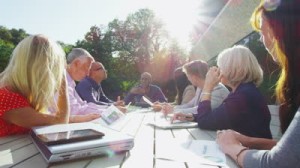 I have recently gone back to basics to really get under the skin of the tools, methods and skills that I use when supporting others in achieving their performance, and joining the dots between them. It has been transformational and I wanted to share that with you today.
There are 4 key models that I bring to my work, and blend them to support clients in creating their performance solutions.  The transformational moment came when I understood that the thread between all of the models is ME-to-WE.
Understanding the ME is fundamental and often under appreciated within teams.  Unless you can understand your own values, beliefs, motivations, fears, perspectives and behaviours, you can't really work with others effectively.  Actually it is more basic than that.  If you don't truly know yourself, then your will never truly understand anyone else.
To be able to perform in the workplace, you need to be clear on what are the benefits to you as an individual to perform.  We all choose whether we perform or not, and how much effort we put in to the role, task or team, and until we are conscious about what informs those choices, we stumble and fall into performance.  Sometimes we are motivated, sometimes we are not.  Sometimes we are passionate and excited, sometimes we are not, it is not an accident.
Of course the coaching is at the heart of understanding the "ME", but it also speaks in Everything DiSC programmes and 5 Behaviors of a Cohesive team models.  Knowing myself, and my preferences, style and behaviours is part of the "ME".
Scratching our heads about why teams aren't performing, and creating processes and rules to fix the issues is fruitless without developing ad appreciating the "ME".  After all, there is no team, or business without the individuals.  Only then can we move into "WE".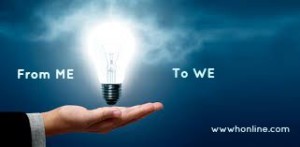 Once we know ourselves, honestly and critically, then we can understand our relationship to others.
We move from:
Criticising the Differences to acknowledging to understanding to appreciating and then to valuing our own and others unique contribution and preferences.  From this place we can start to form a cohesive team.
You see, being open, honest, vulnerable and ourselves forms trust.  Without trust there are no connected relationships.  From a place of trust we can safely look at other perspectives, without judgement or fear.  We can challenge and engage in healthy conflict.  Not from a place of ego, but from a place of being in service of the "WE".
Only then do we gain a collective, and individual commitment to the group, team or business.  From here we move to accountability and results.
We can hide behind systems, processes, finance, lack of strategy or direction.  The basic truth is that we need to bring the wholehearted ME into the collective WE to truly work cohesively for results and increased performance.
Lucy Barkas