Last night I had the privilege of celebrating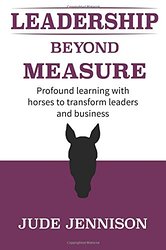 the book launch Leadership beyond measure.
This wasn't your standard book launch I might add.  Sure there were readings and thanks and gratitude, but the author was not the key focus  The focus was on 5 magnificent horses and 10 amazing volunteers who stepped up to courage and leadership in front of a live audience.
The Author, Jude Jennison is a unique character.  She has been on her own personal leadership journey for a number of years, and now writes, from the heart, and guides others with great leadership, to find their own leadership style as co-founder of The leadership Whisperer.  She is without doubt, truly without ego and humble.  Therefore yesterday was not about her, but only about the work she does.
I have now experienced Judes work with horses, 3 times now, and each time I have learned something profound about my own leadership style, strengths and fears, and team work.  The learning come from deep within,  an internal shift, a physical journey.  I am not comfortable with horses.  I mean I adore them, but I have huge respect for these huge, authentic, creatures.  As Jude shares with us, they mirror humans, (leaders) and reflect our own feelings back to us.  If we are hesitant, they are hesitant, if we are ego driven, they are too.  If we take the time to connect, empathise, reassure and then lead courageously, then they will work with us.  They won't be forced, they won't be coerced and they won't be fake.  Not so differently to humans after all?
You might remember one of my previous posts where you can see me working as a team to be a co-leader, taking a beautiful horse around a course.  My,  it was a challenge but oh so fun.  I can't think of any other experiential leadership development that hits you so quickly.  I can't really do this book, or Judes work, justice.  You need to see it, experience it and immerse yourself in it.
Who would have thought that humans don't have all the answers and that horses are far wiser than us when it comes to team work and leadership?